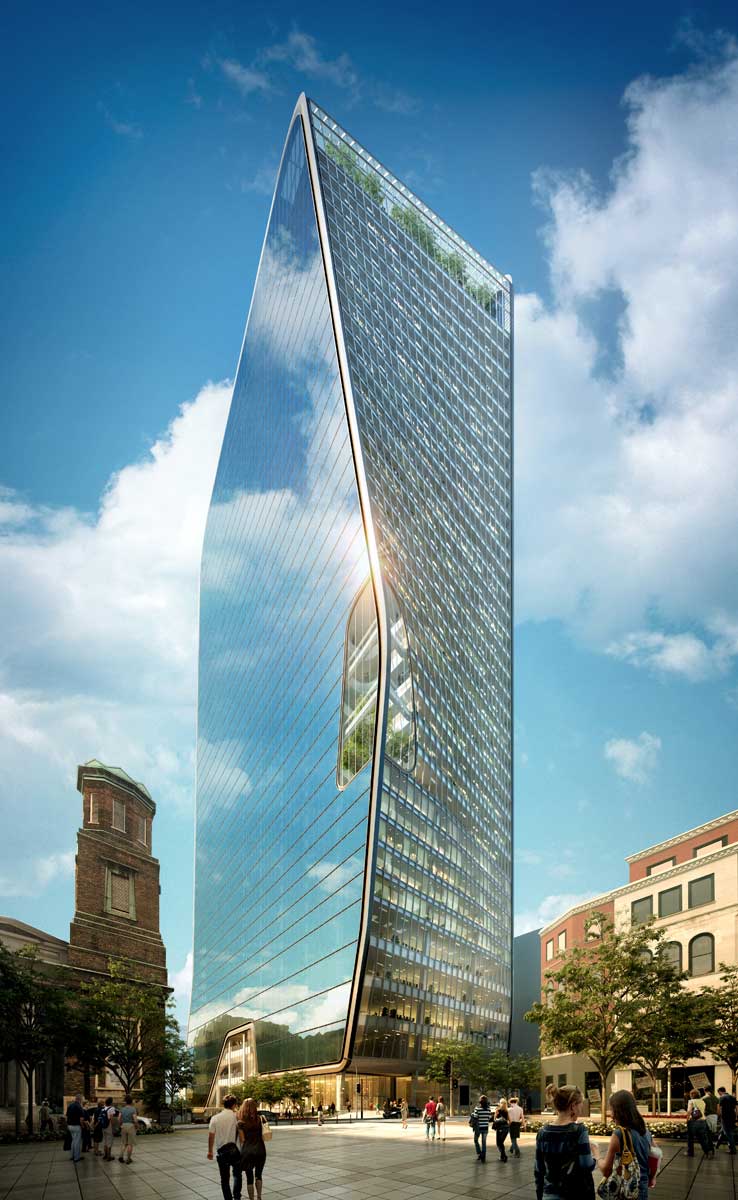 Nashville 505 Tower
Yet another construction crane will appear in downtown Nashville's skyline before Christmas, and it's for a landmark project — a tower that will be the city's second-tallest building.
On Thursday, Nashville developer Tony Giarratana finished closing on all necessary financing for his $169 million skyscraper at a corner of Church Street and Fifth Avenue North. Portions of both roads will periodically be closed during construction.
The tower, scheduled to open in late 2017, will stand 543 feet tall. It will be surpassed only by the iconic AT&T tower, affectionately known as the Batman Building for its twin spires that reach 617 feet into the air.
Giarratana's tower, named 505, will be 45 stories and contain 550 apartments. The top third of the building will be accessed by a separate lobby and elevator system, positioning Giarratana to sell those units as condos, provided he persuades his lenders to change the terms of his newly signed loan documents to permit him to do so.
Those newly signed documents mean Giarratana has all the money needed to finally develop the property that has been the crown jewel of his portfolio for at least the last decade. Most notably, before the recession struck, Giarratana had marketed a building named Signature Tower, which was designed to be the tallest building in the entire Southeast.
Downtown Nashville's resident population has grown 60 percent in the past five years, projected to top a headcount of 8,000 by year's end. City officials have coveted that population growth as a way to rejuvenate the city center. They've not been shy about using public aid to help foster development, a pattern that's become increasingly controversial, including the $12.5 million Giarratana received for this latest tower.
No single developer has created more apartments and condos in Nashville's urban core than Giarratana. He created downtown's first apartment high-rise and its first condo high-rise, both of which are nearby on Church Street. Giarratana's downtown portfolio now stands at 1,790 units, if you include the 505 tower and a 33-story apartment tower in SoBro, both of which are now under construction.
The $93.9 million construction loan for the 505 tower comes from Bank of the Ozarks. The bank, based in Little Rock, Ark., is increasingly active in Nashville. Public records show that starting in 2014, the bank has provided at least $261 million for commercial construction. They're all high-profile: the 27-story Westin under construction in SoBro, the $100 million mixed-use development in Midtown by Buckingham Cos. and early development of the OneCity project on Charlotte Avenue.
As we previously reported, Giarratana obtained $37.6 million of mezzanine financing from Chicago-based LaSalle Investment Management. Along with $25 million of investor equity, Giarratana obtained loans from First Advantage Bank and Reliant Bank for a combined $12.5 million — money backed by a commitment of tax revenue from the Metropolitan Development and Housing Authority.
The 505 tower will be built on 0.4 acres fronting Church Street. Giarratana last year sold the 0.8 acres behind that property to MDHA, which is under construction on a public parking garage that will include spaces for the residents of Giarratana's tower.
Original source: It's official: Giarratana's Sky Scraper is Fully Financed