Renovation Trends in New Construction:
Building or renovating? Five must-have design elements you need to know about
Home design trends are tricky.
Invest in the of-the-moment fad and, suddenly, your house looks dated once the look goes out of style. (Remember wallpaper borders, faux painting and dusty, never used formal living rooms?)
We asked the experts what design elements are classic without being boring, and will still elicit "what a beautiful house" decades from now.
Open Floor Plan
A kitchen that allows the chef to still be a part of the family fun? A family room that can accommodate several generations for holiday parties? An open floor plan is almost always at the top of today's home buyers wish list.
It will last because families no longer want to waste precious time being silo'd off in separate areas, and in today's casual environment, a formal living room seems superfluous.
Since the open floor plan gives much-needed creative freedom to use space in a way that works for each family, expect this design element to continue to be a must-have for home buyers.
Mismatched kitchen cabinets
Having some cabinets with glass front, others with a beadboard front, or instead of all white cabinets, a touch of color on the island or select cabinets keeps the all-white kitchen visually textured. (While still keeping the classic vibe of a white kitchen still firmly in play.)
Organic and earthy meets elegance
Sophisticated elements mingle with rustic. Think exposed beams and a grand chandelier together. Nothing is all one-note, but a delightful mixture.
Organic elements, stone, timber, hardwood, and marble or granite, are being incorporated into home builder and designers plans like never before. Combine this earthy element with luxe details like vaulted ceilings, chandeliers, and coffered ceilings, and you have a house that has the perfect mix of warmth and elegance.
There is still a decidedly European vibe, timber beams and arched doorways evoke a French chateau, but instead of recreating the look as a complete copy, homes today just hint at their design pedigree.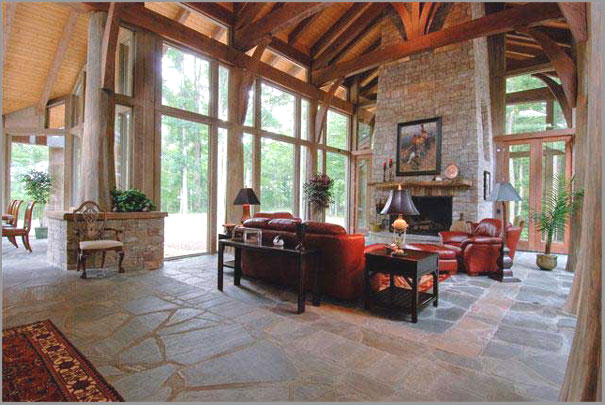 Mixed metal
The days of all one finish in the home is over. Where once all brass doorknobs, light fixtures, and bathroom fittings were all the rage, it is much more sophisticated to mix metals. Beautiful chrome lighting can reside in the same space as brass fittings in a kitchen.
Gray and blue are the hue
Nearly every Realtor bemoans the homeowner who still has dark red paint in their living space today.
Like the open floor plan, the paint colors that home builders are using evoke a more spa-like feel in the home and have an airy feel. Many designers top picks are shades of blue, gray, misty green and shades of creamy white.
Original source: Building or Renovating? Five Must-Have Design Elements You Need to Know about